Well, who doesn't like chocolate cake? Definitely, there will hardly be anyone who will say no for it. If one is still skeptical about eating cakes because they feel that every cake has egg in it, then they can always have home-made cakes. Home-made cakes can have some more added ingredients or reduces number of ingredients according to the preference of an individual.
Read Also:- Facts about coffee beans and how to store them
Today, in this articles what we are going to talk about is a layered chocolate which is quite popular because of its amazing taste. You may also feel that chocolate cakes are the only cakes which are always in trend and are preferred the most as they can go with the theme of any occasion.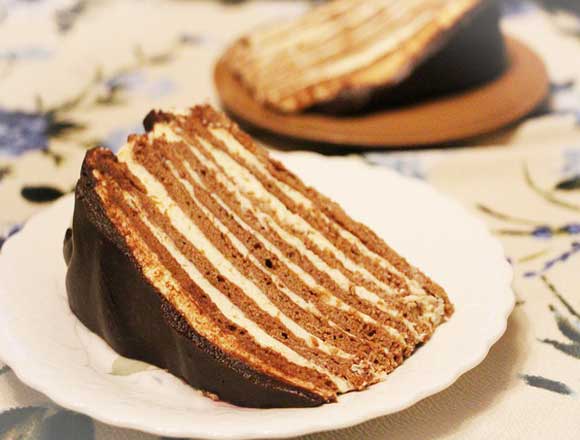 We also feel that those cakes are the best which does not require a lot of time consumption because you don't have to take out much time for preparing them as everyone is quite busy in today's world. So, today's focus will also be how we can prepare a chocolate cake without wasting much of our time.
The recipe of a layered cake which we are now going to share with you is very quick to be prepared. You can prepare its batter only in 15 minutes and it yields you the cake with great texture which is extremely palatable.
Read Also:- Red Chilli Pickle Recipe | Enhance Taste of Food
For how many people:
12 people
Ingredients for Preparing the Chocolate Cake:
About 250 grams of all-purpose flour
half cup of vegetable oil
one and a half teaspoons baking soda
one and teaspoons baking powder
2 large eggs
1 cup milk
1 cup warm water or coffee
Half teaspoon salt
One and half teaspoons pure vanilla extract
2 cups granulated white sugar
75 grams unsweetened cocoa powder
Steps How to Prepare the Chocolate Cake
The very first thing which you have to do is that you need to heat the oven to 350 degrees and place the rack of oven in the center. Then take two 9 inches of cake pans and apply some butter on them. You can even use the non-sticky vegetable spray in place of butter. After this line the base of the pans using parchment paper.
After this, you need to whisk sugar and flour together along with other ingredients like cocoa powder, baking soda, salt and baking powder. Mix all these ingredients very well in a large bowl.
At the same time, you can take another bowl and beat eggs, oil, water or coffee, vanilla extract and milk. Then you need to add all the wet ingredients in the dry ones which you already mixed before. You need to mix them all till you get a fine level of mixture ready. That batter has to be thin.
Read Also:- TAMARIND: Do You Really Need It? This Will Help You Decide! Health Benefits
The next thing is to divide the batter for tow pans. Make sure this should happen in equal amount. Now you will keep them to be baked for about 30 minutes.
We also have a toothpick test. If you put it in the baked cake, it should come out clean. If it does not happen means the cake is not baked properly. Put the toothpick in the center for this test.
After the cakes are baked, you can remove the pans from the oven to cool down. Keep them on a wire rack. Leave them for 10 minutes approximately.
Once the cakes are cooled, it is time to remove them from the pans and keep them on a greased wire rack to cool down completely. When this happens, you need to prepare the frosting for the cake in the meantime.
Ingredients for Preparing Chocolate Frosting:
180 grams semi-sweet or bittersweet chocolate which should be chopped
one and a half teaspoons vanilla extract
2 cups powdered or icing sugar
1 cup unsalted butter which should be kept at room temperature
Steps How to Prepare Chocolate Frosting
You need to first melt the chocolate in a bowl that is heatproof. Place the bowl on a saucepan of the water which is simmering.
Once the chocolate is melted, remove the bowl from heat to cool down on the temperature of the room.
You need to beat the butter in a bowl in order to make it very smooth. It won't take long, you need to just beat it for a minute only. For this, you can either use an electric mixer. After beating the butter alone, you need to add sugar and beat the mixture again to get a fluffy and light mixture for about 2 minutes.
Read Also:- Your Key To Success: CARROTS HEALTH BENEFITS
Afterward, add vanilla extract and chocolate to this mixture. Beat all this together on a low speed first and then increase the speed to high speed to get the smoother texture. This will also be done only for 2-3 minutes. Once you have made the simple chocolate cake and chocolate frosting, you can give the cake the final form using chocolate frosting, putting two cakes above each other by separating them with the help of frosting and then you can decorate your cake the way you want.